See Credits : http://guiltypleasuresreviews.blogspot.com/2014/03/new-releases-this-week-march-4th.html
A Death-Struck Year by Makiia Lucier
For Cleo Berry, the people dying of the Spanish Influenza in cities like New York and Philadelphia may as well be in another country–that's how far away they feel from the safety of Portland, Oregon. And then cases start being reported in the Pacific Northwest. Schools, churches, and theaters shut down. The entire city is thrust into survival mode–and into a panic. Headstrong and foolish, seventeen-year-old Cleo is determined to ride out the pandemic in the comfort of her own home, rather than in her quarantined boarding school dorms. But when the Red Cross pleads for volunteers, she can't ignore the call. As Cleo struggles to navigate the world around her, she is surprised by how much she finds herself caring about near-strangers. Strangers like Edmund, a handsome medical student and war vet. Strangers who could be gone tomorrow. And as the bodies begin to pile up, Cleo can't help but wonder: when will her own luck run out?
Riveting and well-researched, A Death-Struck Year is based on the real-life pandemic considered the most devastating in recorded world history. Readers will be captured by the suspenseful storytelling and the lingering questions of: what would I do for a neighbor? At what risk to myself?
An afterword explains the Spanish flu phenomenon, placing it within the historical context of the early 20th century. Source notes are extensive and interesting.
Best Kind of Broken by Chelsea Fine
New Adult Romance
"Tangled with friendship and heartbreak, [BEST KIND OF BROKEN] is not to be missed!" –Jay Crownover, New York Times bestselling author of Rule
SOMETIMES MOVING ON MEANS MOVING IN
Pixie Marshall wishes every day she could turn back time and fix the past. But she can't. And the damage is done. She's hoping that a summer of free room and board working with her aunt at the Willow Inn will help her forget. Except there's a problem: the resident handyman is none other than Levi Andrews. The handsome quarterback was once her friend-and maybe more-until everything changed in a life-shattering instant. She was hoping to avoid him, possibly forever. Now he's right down the hall and stirring up feelings Pixie thought she'd long buried . . .
Levi can't believe he's living with the one person who holds all his painful memories. More than anything he wants to make things right, but a simple "sorry" won't suffice-not when the tragedy that scarred them was his fault. Levi knows Pixie's better off without him, but every part of him screams to touch her, protect her, wrap her in his arms, and kiss away the pain. Yet even though she's so close, Pixie's heart seems more unreachable than ever. Seeing those stunning green eyes again has made one thing perfectly clear-he can't live without her.
Cured (Stung #2) by Bethany Wiggins
Now that Fiona Tarsis and her twin brother, Jonah, are no longer beasts, they set out to find their mother, with the help of Bowen and a former neighbor, Jacqui. Heading for a safe settlement rumored to be in Wyoming, they plan to spread the cure along the way—until they are attacked by raiders. Luckily, they find a new ally in Kevin, who saves them and leads them to safety in his underground shelter. But the more they get to know Kevin, the more they suspect he has ties to the raiders. He also seems to know too many details about Jacqui and her family—details that could endanger them all. For the raiders will do anything they can to destroy the cure that would bring an end to their way of life. Bethany Wiggins's reimagining of our world after an environmental catastrophe won't fail to stun readers.
Dangerous by Shannon Hale
How far would you go to save the ones you love? And how far would you go to save everyone else?
Maisie Danger Brown just wanted to get away from home for a bit and see something new. She never intended to fall in love with a boy at space camp. And she certainly never intended to stumble into a frightening plot that just might destroy everything and everyone she cares about. But now there's no going back – Maisie's the only thing standing between danger and annihilation. She must become the hero the world needs, before she loses her heart . . . and her life.
Equal parts romance and action-adventure, this explosive story is sure to leave both longtime Shannon fans and avid sci-fi readers completely breathless.
Death Sworn by Leah Cypress
Ileni is losing her magic. And that means she's losing everything: Her status as the renegade sorcerers' most powerful rising star. Her purpose in life. The boy she loves. Her home.
Exiled to teach sorcery to the assassins hidden deep within the mountains, she expects no one will ever hear from her again. The last two tutors died within weeks of each other. As Ileni unravels the mystery surrounding their deaths, she'll uncover secrets that have been kept for decades—and she'll find an unexpected ally and dangerous new love.
But even he may not be able to protect her. Not when she's willing to risk everything.
Deceiving Lies by Molly McAdams
The irresistible, blazing-hot sequel to New York Times bestselling author Molly McAdams's Forgiving Lies
Rachel is supposed to be planning her wedding to Kash, the love of her life. After the crazy year they've had, she's ready to settle down and live a completely normal life. Well, as normal as it can be. But there's something else waiting—something threatening to tear them apart.
Kash is ready for it all with Rachel, especially if "all" includes having a football team of babies with his future wife. In his line of work, Kash knows how short life can be and doesn't want to waste another minute of their life together. But now his past as an undercover narcotics agent has come back to haunt him . . . and it's the girl he loves who's caught in the middle.
Trent Cruz's orders are clear: take the girl. But there's something about this girl that has him changing the rules and playing a dangerous game to keep her safe. When his time as Rachel's protector runs out, Trent will turn his back on the only life he's known—and risk everything if it means getting her out alive.
Half Bad by Sally Green
In modern-day England, witches live alongside humans: White witches, who are good; Black witches, who are evil; and sixteen-year-old Nathan, who is both. Nathan's father is the world's most powerful and cruel Black witch, and his mother is dead. He is hunted from all sides. Trapped in a cage, beaten and handcuffed, Nathan must escape before his seventeenth birthday, at which point he will receive three gifts from his father and come into his own as a witch—or else he will die. But how can Nathan find his father when his every action is tracked, when there is no one safe to trust—not even family, not even the girl he loves?
In the tradition of Patrick Ness and Markus Zusak, Half Bad is a gripping tale of alienation and the indomitable will to survive, a story that will grab hold of you and not let go until the very last page.
Let The Storm Break (Sky Fall Series #2) by Shannon Messenger
Whirlwind romance and breathtaking action continues in the sequel to Let the Sky Fall, which Becca Fitzpatrick called "charged and romantic."
Vane Weston is haunted. By the searing pull of his bond to Audra. By the lies he's told to cover for her disappearance. By the treacherous winds that slip into his mind, trying to trap him in his worst nightmares. And as his enemies grow stronger, Vane doesn't know how much longer he can last on his own.
But Audra's still running. From her past. From the Gales. Even from Vane, who she doesn't believe she deserves. And the farther she flees, the more danger she finds. She possesses the secret power her enemy craves, and protecting it might be more than she can handle—especially when she discovers Raiden's newest weapon.
With the Gale Force weakened by recent attacks, and the power of four collapsing, Vane and Audra are forced to make a choice: keep trusting the failing winds, or turn to the people who've betrayed them before. But even if they survive the storms sent to destroy them, will they have anything left to hold on to?
Nil by Lynne Matson
On the mysterious island of Nil, the rules are set. You have exactly 365 days to escape—or you die.
Seventeen-year-old Charley doesn't know the rules. She doesn't even know where she is. The last thing she remembers is blacking out, and when she wakes up, she's naked in an empty rock field.
Lost and alone, Charley finds no sign of other people until she meets Thad, the gorgeous leader of a clan of teenage refugees. Soon Charley learns that leaving the island is harder than she thought . . . and so is falling in love. With Thad's time running out, Charley realizes that she has to find a way to beat the clock, and quickly, in this thrilling debut novel by Lynne Matson.
Panic by Lauren Oliver
Panic began as so many things do in Carp, a poor town of twelve thousand people in the middle of nowhere: because it was summer, and there was nothing else to do.
Heather never thought she would compete in panic, a legendary game played by graduating seniors, where the stakes are high and the payoff is even higher. She'd never thought of herself as fearless, the kind of person who would fight to stand out. But when she finds something, and someone, to fight for, she will discover that she is braver than she ever thought.
Dodge has never been afraid of panic. His secret will fuel him, and get him all the way through the game; he's sure of it. But what he doesn't know is that he's not the only one with a secret. Everyone has something to play for.
For Heather and Dodge, the game will bring new alliances, unexpected revelations, and the possibility of first love for each of them—and the knowledge that sometimes the very things we fear are those we need the most.
In this gritty, spellbinding novel, New York Times bestselling author Lauren Oliver delivers a gripping narrative of friendship, courage, survival, and hope.
Searching for Beautiful by Nyrae Dawn
Brynn had a group of best friends, a boyfriend who loved her, a growing talent for pottery. She had a life. And then…she had none.
Everything was lost. The boy she now knew never loved her. The friends who felt she betrayed their trust. The new life just beginning to grow inside her.
Brynn believes her future is as empty as her body until Christian, the boy next door, starts coming around. Playing his guitar and pushing her to create art once more. She meets some new friends at the local community center, plus even gets her dad to look her in the eye again…sort of. But letting someone in isn't as easy as it seems.
Can Brynn open up her heart to truly find her life's own beauty, when living for the after means letting go of the before?

Some Like It Wild by M. Leighton
First was The Wild Ones. Now, the next book in M. Leighton's Wild Ones series…
How far will a good girl go for the bad boy she loves?
Laney Holt is a preacher's daughter. A good girl. Her only goal was to get married, have babies, and live happily ever after, just like her parents. Only that didn't happen. The two people closest to her betrayed her, and Laney's dreams came crashing down. Now she's left with an empty space she doesn't know how to fill. Until she meets Jake Theopolis, a daredevil with a death wish who has heartbreaker written all over him.
Jake has no interest in thinking beyond the here and now. All he wants out of life is the next rush, the next "feel-good" thing to keep his mind off the pain of his past. His latest rush? Showing Laney there's more to life than being a good girl—and that going bad can be so much fun. Her only concern now is how she can ever hope to satisfy the wild side of a boy like Jake. She's looking forward to trying. And so is Jake.
If you love The Wild Ones, you'll be just as wild for M. Leighton's Bad Boys series which includes Down to You, Up to Me, and Everything for Us.
Steadfast (Spellcaster Series #2) by Claudia Gray
The second book in the dazzling Spellcaster series from New York Times bestselling author Claudia Gray is perfect for fans of the Beautiful Creatures and Hex Hall series.
Nadia, Mateo, and Verlaine saved Captive's Sound from the dark sorceress Elizabeth . . . or so they thought. But despite their best efforts, a crack opened and a new, greater evil seeped through. With Mateo as her Steadfast, Nadia's magic is magnified but her training is still incomplete. And a darker magic has begun to call Nadia. . . .
With her Steadfast, Mateo, and her best friend, Verlaine, Nadia must fight the black magic that tempts her and stop the One Beneath before he comes to claim what is his.
The Haven by Carol Lynch Williams
For the teens at The Haven, the outside world, just beyond the towering stone wall that surrounds the premises, is a dangerous unknown. It has always been this way, ever since the hospital was established in the year 2020. But The Haven is more than just a hospital; it is their home. It is all they know. Everything is strictly monitored: education, exercise, food, and rest. The rules must be followed to keep the children healthy, to help control the Disease that has cast them as Terminals, the Disease that claims limbs and lungs—and memories.
But Shiloh is different; she remembers everything. Gideon is different, too. He dreams of a cure, of rebellion against the status quo. What if everything they've been told is a lie? What if The Haven is not the safe place it claims to be? And what will happen if Shiloh starts asking dangerous questions?
Powerful and emotional, The Haven takes us inside a treacherous world in which nothing is as it seems. "Imagine Anna Quindlen or Sue Miller turning her attention to writing a young adult novel, and you have an idea of what Carol Lynch Williams has done for early teen readers." (Audrey Couloumbis, author of the Newbery Honor Book Getting Near to Baby)

The Nightmare Dilemma by Mindee Arnett
The thrilling new fantastical mystery series from YA author Mindee Arnett continues in The Nightmare Dilemma.
Dusty Everhart might be able to predict the future through the dreams of her crush, Eli Booker, but that doesn't make her life even remotely easy. When one of her mermaid friends is viciously assaulted and left for dead, and the school's jokester, Lance Rathbone, is accused of the crime, Dusty's as shocked as everybody else. Lance needs Dusty to prove his innocence by finding the real attacker, but that's easier asked than done. Eli's dreams are no help, more nightmares than prophecies.
To make matters worse, Dusty's ex-boyfriend has just been acquitted of conspiracy and is now back at school, reminding Dusty of why she fell for him in the first place. The Magi Senate needs Dusty to get close to him, to discover his real motives. But this order infuriates Eli, who has started his own campaign for Dusty's heart.
As Dusty takes on both cases, she begins to suspect they're connected to something bigger. And there's something very wrong with Eli's dreams, signs that point to a darker plot than they could have ever imagined.
At the publisher's request, this title is being sold without Digital Rights Management software (DRM) applied.
The Summer I Found You by Jolene Perry
Kate's dream boyfriend has just broken up with her and she's still reeling from her diagnosis of type 1 diabetes.

Aidan planned on being a lifer in the army and went to Afghanistan straight out of high school. Now he's a disabled young veteran struggling to embrace his new life.

When Kate and Aidan find each other neither one wants to get attached. But could they be right for each other after all?
The Winner's Curse by Marie Rutkoski
As a general's daughter in a vast empire that revels in war and enslaves those it conquers, seventeen-year-old Kestrel has two choices: she can join the military or get married. But Kestrel has other intentions. One day, she is startled to find a kindred spirit in a young slave up for auction. Arin's eyes seem to defy everything and everyone. Following her instinct, Kestrel buys him—with unexpected consequences. It's not long before she has to hide her growing love for Arin. But he, too, has a secret, and Kestrel quickly learns that the price she paid for a fellow human is much higher than she ever could have imagined.
Set in a richly imagined new world, The Winner's Curse by Marie Rutkoski is a story of deadly games where everything is at stake, and the gamble is whether you will keep your head or lose your heart.
16 Things I Thought Were True by Janet Gurtler
Heart attacks happen to other people #thingsIthoughtweretrue
When Morgan's mom gets sick, it's hard not to panic. Without her mother, she would have no one—until she finds out the dad who walked out on her as a baby isn't as far away as she thought…
Adam is a stuck-up, uptight jerk #thingsIthoughtweretrue
Now that they have a summer job together, Morgan's getting to know the real Adam, and he's actually pretty sweet…in a nerdy-hot kind of way. He even offers to go with her to find her dad. Road trip, anyone?
5000 Twitter followers are all the friends I need #thingsIthoughtweretrue
With Adam in the back seat, a hyper chatterbox named Amy behind the wheel, and plenty of Cheetos to fuel their trip, Morgan feels ready for anything. She's not expecting a flat tire, a missed ferry, a fake girlfriend…and that these two people she barely knew before the summer started will become the people she can't imagine living without.
Til Death by Kate Evangelista
Sixteen-year-old Selena Fallon is a dreamer. Not a daydreamer, but an I-see-the-future kind of dreamer. Normally, this is not a problem, as she has gotten pretty good at keeping her weird card hidden from everyone in her small town. But when Selena dreams of her own rather bloody death, things get a little too freaky—even for her.
Enter Dillan Sloan. Selena has seen the new guy in a different dream, and he is even more drool-worthy in person. Beyond the piercing blue eyes and tousled dark hair, there is something else that draws her to him. Something…electric. Too bad he acts like he hates her.
When Selena learns she's being targeted by a force bigger and darker than anything she ever imagined, she's had enough. Despite her death dream, Selena is not going to give up easily, especially when she discovers that Dillan isn't what he seems…and might not actually hate her after all. Dillan might be the only person who can save her.
Donna of the Dead by Alison Kemper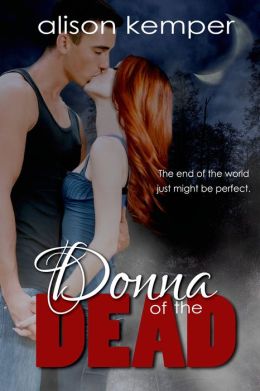 Donna Pierce might hear voices, but that doesn't mean she's crazy. Probably.
The voices do serve their purpose, though—whenever Donna hears them, she knows she's in danger. So when they start yelling at the top of their proverbial lungs, it's no surprise she and her best friend, Deke, end up narrowly escaping a zombie horde. Alone without their families, they take refuge at their high school with the super-helpful nerds, the bossy head cheerleader, and—best of all?—Liam, hottie extraordinaire and Donna's long-time crush. When Liam is around, it's easy to forget about the moaning zombies, her dad's plight to reach them, and how weird Deke is suddenly acting toward her.
But as the teens' numbers dwindle and their escape plans fall apart, Donna has to listen to the secrets those voices in her head have been hiding. It seems not all the zombies are shuffling idiots, and the half-undead aren't really down with kids like Donna…


March 6th Releases
Wayfarer: A Tale of Beauty and Madness by Lili St. Crow
New York Times bestselling author Lili St. Crow thrilled legions of fans with her dark paranormal series Strange Angels. Now she has created a stirringly romantic, deliciously spooky update of Cinderella, the alluring second volume in her trilogy Tales of Beauty and Madness.
The Charmer's Ball. Midnight. And one glass slipper…
Newly orphaned, increasingly isolated from her friends, and terrified of her violent stepmother, Ellen Sinder still believes she'll be okay. She has a plan for surviving and getting through high school, which includes keeping her head down and saving any credits she can earn or steal. But when a train arrives from over the Waste beyond New Haven, carrying a golden boy and a new stepsister, all of Ellie's plans begin to unravel, one by one.
Just when all hope is lost, Ellie meets an odd old woman with a warm hearth and a heavenly garden. Auntie's kindness is intoxicating, and Ellie finally has a home again. Yet when the clock strikes twelve on the night of the annual Charmer's Ball, Ellie realizes that no charm is strong enough to make her past disappear…
In a city where Twisted minotaurs and shifty fey live alongside diplomats and charmers, a teenage girl can disappear through the cracks into safety–or into something much more dangerous. So what happens when the only safety you can find wants to consume you as well?
Lili St. Crow is the author of the Strange Angels series for young adults and the Dante Valentine series, among others, for adults. She is also the author of Nameless, a companion book to Wayfarer. She lives in Vancouver, Washington with her family. Visit lilistcrow.com to find out more.


Soooo many good books coming out this week! I'm excited about Deceiving Lies, Best Kind of Broken, Some Like It Wild, and Donna of the Dead. I would love to hear what you are excited about so feel free to leave your anticipated releases this week in the comments 🙂

Hope that everyone has a great week… Happy Reading!!!
If I missed any books coming out this week that you think should be added to the list, just email me or leave a comment and I'll get it taken care of.